"School unquestionably marks an important milestone in the progress of not only the educa­tional advantages afforded our children, but is at the same time bring­ing into existence an organized protection for both their moral charac­ter and physical force."
1909 Report of Hartland School Superintending Committee Members Allen R. Burton, Daniel A. Packard & George M. Lancey
Pleasant Street School – 1923
It is safe to presume Hartland's early settlers established some form of educational system for their children from 1802 through 1820. We have not yet found documentation to confirm specific locations before Hartland officially became a town in 1820 but these early settlers undoubtedly built some type of dedicated schoolhouses within the major population settlement regions of North Hartland, West Hartland and the Village.

A detailed history of the elementary grade schools is available on the link below. This report uses applicable excerpts relating to the Hartland Common Schools, so called, for Primary through Grade 8, included in Hartland Town Reports from our archives to provide a historical glimpse into the workings of the school system via individual reports presented annually by the School Committee, Superintendents and School Physicians. Proposed school budgets, expenditures and Town Meeting Articles provide further insight into the establishment, repair and/or end of various schoolhouses located throughout Hartland. As more information and photos are discovered, we'll update this document.

The schools below are mentioned within Town Reports over the decades. Several are also noted but unnamed on the 1860, 1883 & 1900 Maps of Hartland designated only as "S.H." More schools are likely to have existed before town line boundary changes but they are unknown so far.
Some of the schoolhouses below which had previously been located within Hartland's original land boundaries were later "shared" with neighboring towns to which the land had been annexed to including Athens (Corson's Corner School), Canaan (Slab City School) and Palmyra (Unknown Name). Tuition was paid to those towns for Hartland based pupils to attend school there due to their proximity of the schoolhouse and a lack of viable and consistent means of transportation to another Hartland School District.
North Hartland
Stafford School: Likely built in the 1820s, closed by 1900 and replaced by the Webber School
Webber School: Built in 1905 on the site of the Stafford School, closed 1931
Starbird School: Near Starbird Pond, aka North Hartland School, closed 1917
Burrill School: On the former Burrill Road, closed by 1900
Corson's Corner School: Near Black Stream, aka Coston's Corner School, later became part of Athen Schools, closed 1933
West Hartland
Fuller's Corner School: Last of all the rural schools to close in 1942
Slab City School: West of Morrill Pond, later became part of Canaan Schools
Church's Corner School: South of Morrill Pond, closed by 1900
Palmyra School: Unknown school name, located near Pittsfield Avenue, closed by 1900
Rand School: North of Morrill Pond, closed 1917
Huff Hill School: Closed 1917
Bean's Corner School: Later became part of Pittsfield Schools, closed 1931
Hartland Village
Ireland School: Original schoolhouse on Pleasant Street located at the future town swimming pool lot, closed 1916
Pleasant Street School: Replaced Ireland School, aka Athens Street School, 1916-1950, sold to American Legion Post 141
Vestry School Rooms: At the Methodist Church, temporary use for Common School Pupils from 1937-1940
Randlett Block School Rooms: Hartland Hardware Store, temporary use for Common School Pupils from 1942-1950
Hartland Consolidated School: Built in 1950 centralizing all Hartland Common School Pupils until 1968
Known Hartland Schoolhouse Locations – 1883 Map

Note: Only the Ireland School existed in 1883 with the Pleasant Street School being built in 1916.
The Webber School was built in 1905 replacing the original Stafford School.
Fuller's Corner School was likely one of the first schools to be established and was the last of the rural schools to close in 1942.
Fullers Corner School Brochure 1902-1903 (Courtesy of Virginia Salisbury Tucker)
Hartland Academy also served as home for various grades of Common School Pupils over the decades who had classes on the Bottom Floor.
Common School Students attending classes at Hartland Academy – 1916
Pleasant Street School – Unknown Year

Pleasant Street School – c1935
Pleasant Street School – c1937
In 1942, the last of the rural schoolhouses was closed at Fuller's Corner. Some of the students from West Hartland and North Hartland joined their classmates in the Village at the Pleasant Street School. Others attended school in make shift classrooms on the 2nd floor of the Hartland Hardware Store on Main Street while the town worked on a long term solution for its overcrowded conditions and lack of adequate space.
Mill Street side entrance used by students attending classes on the 2nd Floor of the Hartland Hardware Store
In 1949, the citizens of Hartland voted to build a new schoolhouse. Construction began on the new building on Elm Street in April of 1950 centralizing all Hartland Common School students from Primary to Grade 8 into one building later that Fall. The 7 acre lot it was built on was purchased from the Estate of the late Dr. Jennie Fuller which had formerly been owned by her father, James Fuller, Jr.
Construction of the new Hartland Consolidated School – 1950
The new school would remain the home of Primary thru Grade 8 students until the end of the 1967-1968 school year. Following the creation of Maine School Administrative District #48 on November 16, 1965 and the subsequent opening of the new Nokomis Regional High School in the Fall of 1968, Grades 7 & 8 began attending school at the former Hartland Academy building on Academy Street.
Hartland Consolidated School – Elm Street
As noted by Hartland School Superintendent Harold E. Carson in his 1954 report, "Three new pieces of playground equipment, an outside basketball court and an ice skating area are worthy of your attention. The Hartland School District Committee and Hartland P. T. A. deserve much credit for this development."
These items and other new equipment added to the school's playground provided recess entertainment for many years.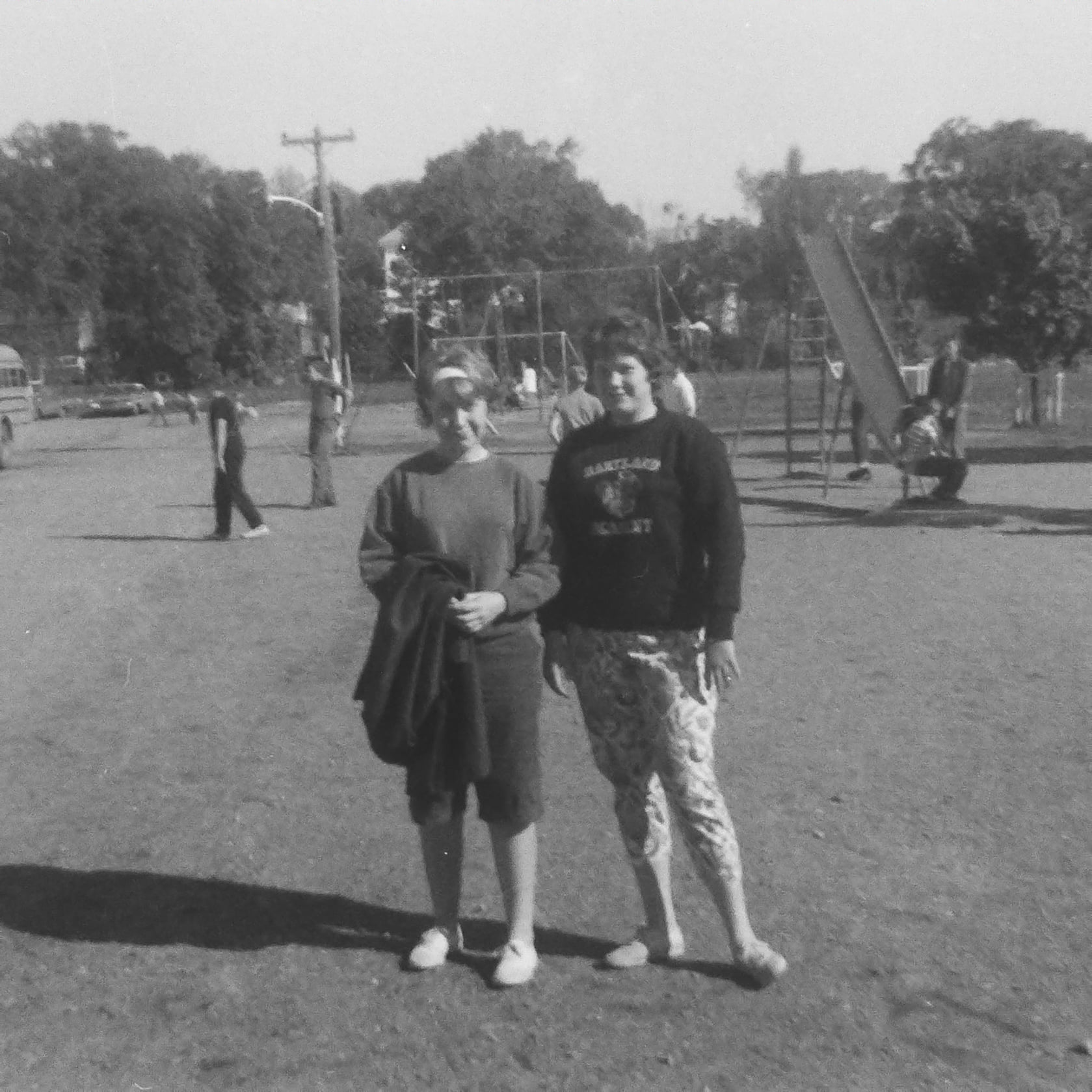 Hartland Consolidated School Playground (Courtesy of Gerald Morgan)
8th Grade Graduation from the Hartland Consolidated School was a celebrated event and was marked by a complete graduation ceremony.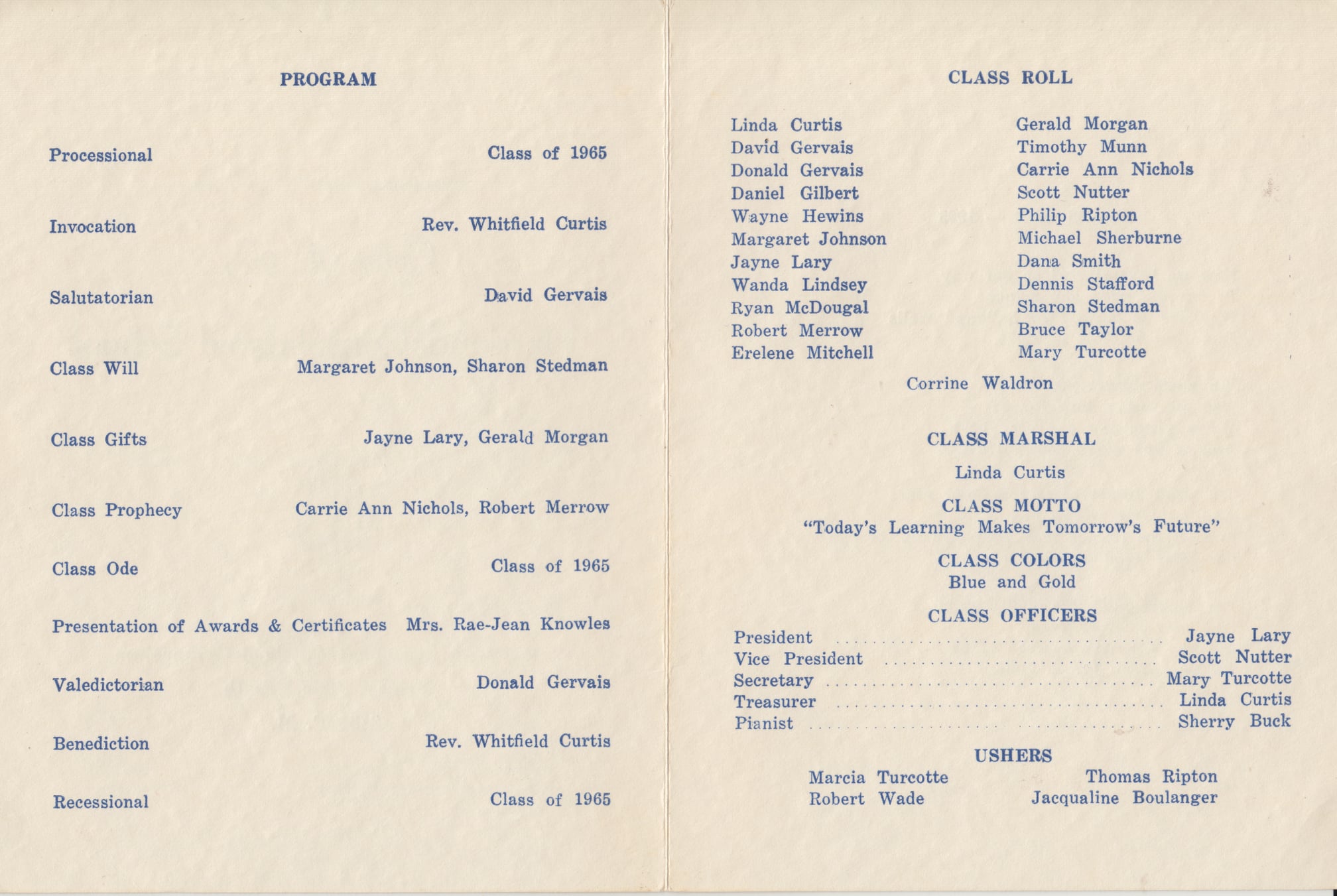 Hartland Consolidated School 8th Grade Graduation Program – 1965 (Courtesy of Gerald Morgan)
Hartland Consolidated School 8th Grade Graduation – Class of 1965 (Courtesy of Maggie Smith)