Originally known as Billings Street until 1897, North Street is also known locally as Upper Georgetown
Most of the area to the north of the Sebasticook River as well as a large section of its western side and all of the eastern side were originally part of St. Albans until the now familiar town lines between the two were re-established in 1846 and it officially became part of Hartland.
North Street was first built as a throughway in 1850 according to early Town records. The bridge connecting it to Mill Street was built later that year in October of 1850. For many years, the connecting road between it and the bridge was known locally as Bridge Street.

In 1856, Josiah Billings, Jr built the 2nd tannery in Hartland at the Upper Dam. Billings also built a hide drying house and a boarding house for some of his dozen or so tannery employees. It came to be called Billings Street likely because Billings may have been at least partly responsible for completing its construction to easily reach his residence on Commercial Street from his new tannery.
Hartland Village – 1860
In 1864, Billings 1st wife, Lydia Ellen (Monroe), died and was buried at Ireland Cemetery. He continued operating his tannery for a few years before selling it in 1867 to Greenville J. Shaw. Billings then left town for Iowa where he remarried and spent the rest of his life there as a farmer.
"Greenville Jefferson Shaw was born in the State of Massachusetts in 1843. When he was eight years of age he came with his family to Penobscot County and settled at Dexter, where he received a common school education. He also attended the Maine State Seminary at Lewiston for three terms, and is a graduate of Eastman's Business College of Poughkeepsie, New York. At the age of twenty he took charge of the tannery at Vernon, New York where he had charge of eighteen men and in 1866 he purchased one half interest in the business. In 1867 he purchased the tannery in Hartland in company with his father (Charles Shaw). In the winter of 1868 and 1869, in company with his father, he also purchased the tanneries at Detroit and Plymouth, which made four tanneries and eighty men under his immediate charge at one time. In 1878, during the scarcity of bark, he was obliged to close three of his tanneries, and at present (1882) operates only the one at Hartland, where he has fifteen men engaged." (History of Penobscot County, Maine – 1882)
Greenville J. Shaw Tannery at the Upper Dam – c1877
By 1883, there were a handful of houses on North Street as well as the Shaw Tannery and its supporting buildings.
Hartland Village – 1883
The Great Flood of 1887 caused major damage to numerous Hartland industries along the Sebasticook River including extensive damage to the Upper Dam and Shaw's Tannery as noted by the Pittsfield Advertiser, "The Boat House at the Upper Dam and a wing dam connecting to the end of (Greenville) Shaw's Tannery were carried away." The flood was likely the cause of the tannery's eventual demise as Shaw ceased operations soon after this and moved to his newly purchased 'Cream Brook Farm' in Stetson.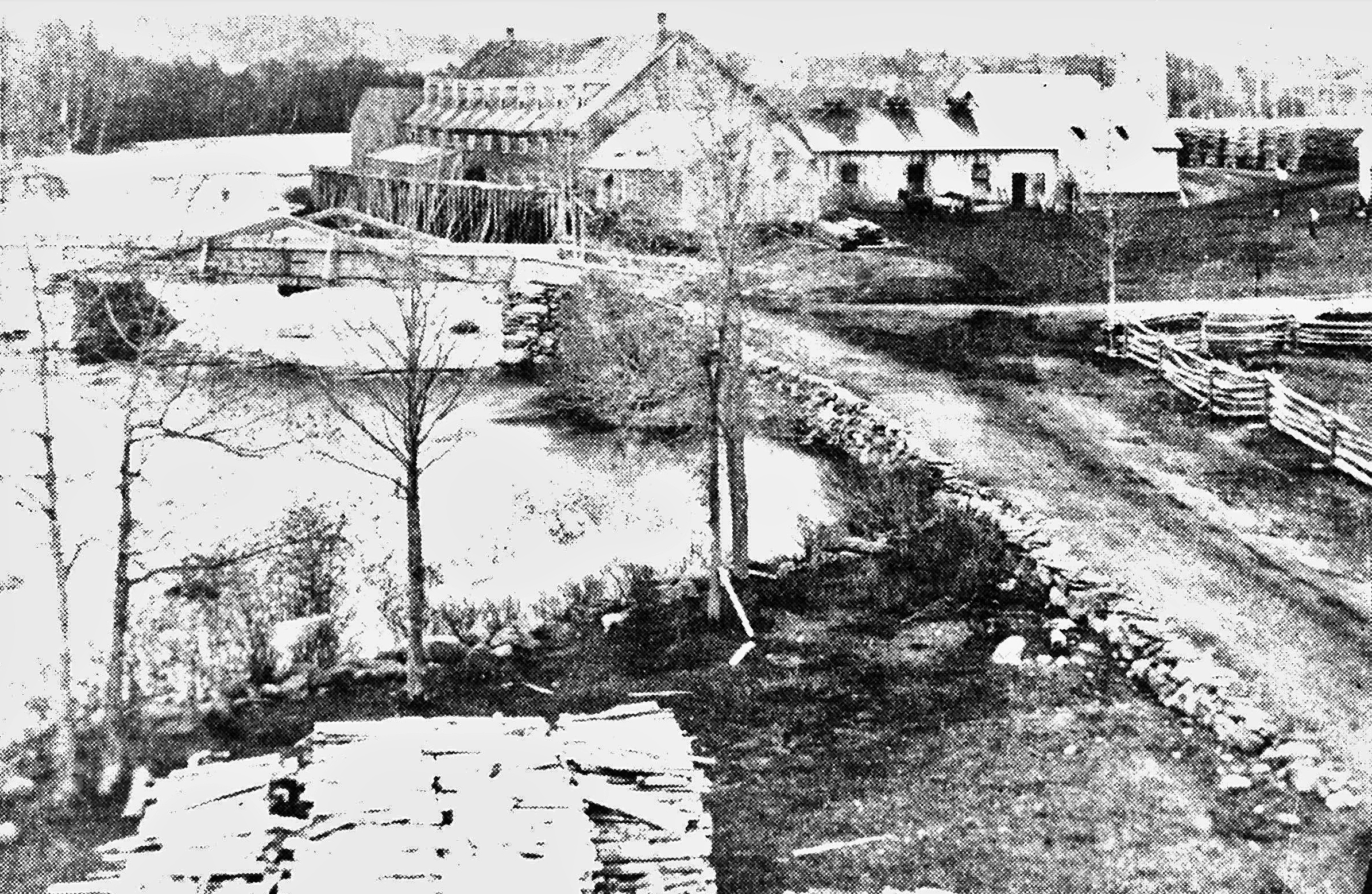 Greenville J. Shaw Tannery at the Upper Dam from Water Street – c1885
Shaw developed a close personal and business relationship with Archibald Linn during their years together in Hartland. They worked together on numerous projects including their fierce campaign to bring a railroad line to town. Although Shaw's interests would turn from his tanning business to breeding race horses & cattle in Stetson, Linn chose Shaw as the Executor of his Will to oversee his 3 Linn Heirs and the future of the Linn Woolen Mill. Numerous portions of Shaw's real estate holdings in Hartland were transferred to the Linn Heirs including the Century House on Commercial Street and the former Shaw Tannery, support buildings and lot.

At the 1897 Town Meeting, the citizens of Hartland voted to accept recommended street names in the village. While most of them retained their original names, a couple of major changes included Billings Street as noted, "From A. J. Moore's to said Commercial Street going East; North Street". The street formerly known as North Street became Commercial Street. It is unclear when or why North Street became known as "Upper Georgetown" but likely it was a colloquial reference introduced by locals to distinguish it from the original "Lower Georgetown" or Water Street.
Amasa James Moor (1827-1899), son of James Moor and grandson of original settler William Moor, built one the first known houses on North Street. A. J. Moor operated his wood working mills at the Upper Dam on what would become Moore Street. The house would remain in the Moor-Moore Family for several generations following his death when his son Walter H. Moore (1856-1931) lived there followed by Walter's daughter Florence (Moore) Smith (1858-1949) then finally her daughter Helen Moor Smith (1889-1983).

Former Amasa J. Moor House as residence of Walter H. Moore – 1923
Former Amasa J. Moor House as residence of Lindy & Shirley Humphrey – 2012

The Great Flood of 1923 would overwhelm a portion of North Street with overflow from the smaller northern outlet of Great Moose Lake which engulfed the North Street Bridge before flooding onto Water Street. The rest of this side of North Street was mostly unaffected by the flood.

North Street Bridge – 1923
North Street Bridge – 1923
North Street Bridge – 1923
North Street Bridge – 1923
Flood Waters from North Street Outlet rushing across to Water Street – 1923
Walter Henry Moore (1856-1931) had sold the family wood mill operations at the Upper Dam on Moore Street about 1909. He and his son Merrill A. Moore built a new woodworking mill next to his North Street house in 1923 known as "W. H. Moore & Son Woodworking".
In the 1920 Census, Walter first uses "Moore" as his surname spelling instead of "Moor" as he had listed himself in the 1910 Census.
W. H. Moore & Son Woodworking Sign (Donated)

Following Walter's death in 1931, Merrill Amasa Moore (1897-1976), a West Point Graduate, World War I Veteran and Boy Scout Troop Master, continued to operate the mill into the early 1970s before retiring marking the end of 170+ years of Moor-Moore Family Wood Mill operations in Hartland.
Merrill Amasa Moore – Sesquicentennial Chairman – 1970
Soon after the demolition of the Shaw Tannery by 1910, Thomas Fuller Randlett (1869-1955) leased one of the former tannery support buildings which was still standing near the Sebasticook River behind the old boat landing and began his ice business.
Thomas Fuller Randlett Ice House (Dark Building on left)
Thomas Fuller Randlett cutting ice on the Sebasticook River
Thomas Fuller Randlett with his new motorized Ice Cutter on the Sebasticook River
Following the American Woolen Company bankruptcy filing in 1932, much of the vast real estate holdings it had purchased in Hartland from the former Linn Manufacturing Company & Archibald Linn Estate were sold off at the Great Auction held on December 2, 1932.
Front Page of Brochure – Great Auction of 1932
The auction included several properties on North Street which had been owned by Greenville Jefferson Shaw while operating his tannery and sold to the Linn Heirs. Those properties are seen below from the original auction drawings & descriptions for Lots 23, 24 & 25.
Lots 23, 24 & 25
23. BILLINGS STREET (North Street): Approximately 34,000 square feet of land with one and one-half-story frame two-family dwelling having seven rooms to each family, electricity, baths, also frame barn. (Purchased by Thomas Randlett for $350)
24. BUILDING LOT (North Street): Approximately 6,900 square feet of land. See auction plot. (Purchased by Frank Withee)
25. NOS. 21-22 BILLINGS STREET (North Street): Approximately 19,400 square feet of land with one and one-half-story frame cottage having seven rooms with barn attached. (Purchased by Mrs. Earle Stanhope for $375)
We are told by Hartland Historical Society Members Harlan & Clyde Emery they were both born in the No. 23 North Street house and Dr. Charles Moulton arrived in his modified Model T fit with front skis to deliver Clyde.
Hartland Village – 1943
From the 1943 Map, the 5 houses below were owned by (L-R): Calvin Milton Williams, T. Brooks, F. Palmer, Unknown, F. Laughlin.
Left Side of North Street looking toward Commercial Street
Lumber Yards would often mark large freight train shipments of stock with the customer's name on one of the planks.
Lumber Delivery for W. H. Moore & Son (Photo courtesy of Sam Fuller)
North Street looking across to the Mill Street Bridge – 1945 (Photo courtesy of Maynard Ross)

As part of the 1987 Lower Dam Project, a dike was installed at the Great Moose Lake outlet which had fed the North Street Bridge Stream.
North Street Bridge – 1987