H. C. Baxter & Brothers Canning Company began operations in Hartland in 1913 and for nearly 5 decades provided numerous full-time and seasonal jobs at its processing plant on Pleasant Street. Baxter also provided hundreds more jobs in the fields of surrounding area farms all over the region where farmers and workers alike provided the company with raw vegetables.
"H. C. Baxter & Brothers Canning Company was founded in 1887 by Hartley C. Baxter of Brunswick, Maine. His brothers James P. Baxter, Jr and Rupert H. Baxter soon became partners in the business. Their father, James P. Baxter, Sr of Portland, Maine, was one of the pioneer vegetable canners in the United States starting the firm Davis & Baxter Company in 1850. H. C. Baxter & Brothers were also pioneers in canning corn and had several plants in Maine, New Hampshire and Vermont. In the 1920's the firm was enlarged to include John L. Baxter, a son of Hartley C. Baxter, and Bruce H. M. White & F. Webster Browne, sons-in-law of the other two brothers. In an effort to expand its business the company began to can peas, string beans and whole kernel corn in 1923 with these operations centered in Hartland where a plant had opened in 1913."
Hartley Cone Baxter (1857-1939)
The quoted details of H. C. Baxter & Brothers Canning Company's history are from the Fogler Library's Baxter Archives at the University of Maine at Orono. We also extend our sincere gratitude for the numerous personal recollections from area residents, donated artifacts and shared photos including several from the collection of Gladys (Deering) Gilbert shared by her family.
The existence of the Maine Central Railroad line connecting to the rest of the country was undoubtedly at least one of the major contributing factors for H. C. Baxter & Brothers Canning Company to locate a new plant in Hartland. Baxter Canning would become one of Hartland's largest commercial users of the line shipping millions of pounds of vegetable products via train from their plant located on Outer Pleasant Street where they eventually had a private 666′ side rail capable of holding up to 7 freight cars.
H. C. Baxter & Brothers Canning Company's Original Hartland Plant on Pleasant Street – 1917

H. C. Baxter & Brothers Canning Company produced its 2 company branded product under the labels of "Baxter's Finest" & "Snowflake Canning" as well as producing various canned products labeled for other companies such as "S.S. Pierce" and "Great Atlantic & Pacific Tea Company".
Baxter Canning's influence on the extended local economy was immeasurable over the decades with dozens and dozens of farms raising vegetables across the region. In turn, these farmers hired hundreds of local workers of all ages to harvest crops from the fields. Buildings in outlying towns were often used as central gathering facilities for local crop harvests before the product was brought to the Hartland plant for final canning where Baxter employed its regular seasonal production crew.
Original H. C. Baxter & Brothers Canning Company's Hartland Plant on Pleasant Street
Corn Shed at H. C. Baxter & Brothers Canning Company's Hartland Plant on Pleasant Street

"During late summer and early fall of the early 1920s, loads of corn were brought in by horse drawn hay racks and farm wagons and dumped in great heaps under a large shed at the Baxter Brothers facility in St. Albans. Men and women from St. Albans worked husking the corn and could easily make $2 a day at the height of the season. It was a matter of amusement for the locals that some of the corn was later put in cans with an S. S. Pierce can labeled "Superior" and other corn was put in cans with a Great Atlantic and Pacific Tea Company label, though both were the same product." (Courtesy of St. Albans Historical Society)

St. Albans Corn Husking Facility (Photo courtesy of St. Albans Historical Society)
St. Albans Corn Husking Facility (Photo courtesy of St. Albans Historical Society)
Although its exact date of issue is unknown, Baxter Canning used these Corn Husking Check tokens as proof for future cash payment.
Baxter Husking Check Front & Back (Photo courtesy of Sam Fuller)
An excerpt from a magazine article provides some insight into the use of Baxter's Husking Tokens.
"Canning Gold; Northern New England's Sweet Corn Industry"
Before his death, Hartley C. Baxter's biography was included in the 1928 book, "Maine Biographies" by Harrie B. Coe
Hartley Cone Baxter Biography – 1928
The exact year is currently unknown but by the 1930s the Hartland Plant was first expanded as Baxter's business continued to grow. Around the same time Baxter began to produce frozen vegetables for the Bird's Eye Company and also became interested in potato processing.
Rear view of H. C. Baxter & Brothers Canning Company's Hartland Plant after first expansion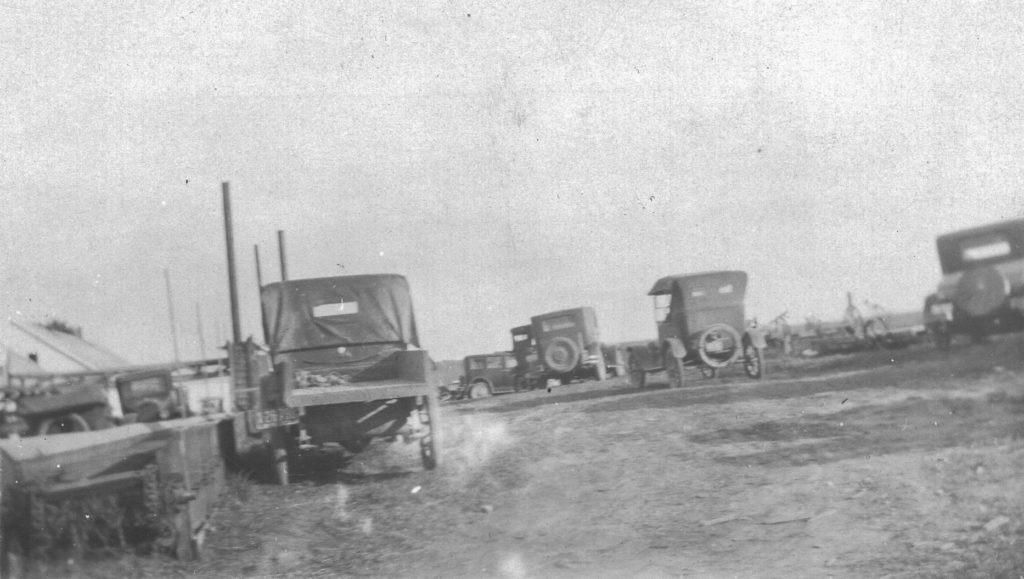 Rear Parking Lot of H. C. Baxter & Brothers Canning Company's Hartland Plant
An unknown Baxter Canning Shop Foreman is seen inside the Hartland Plant in this undated photo.
Interior of H. C. Baxter & Brothers Canning Company's Hartland Plant
A 2nd expansion with additional buildings was later made to the Baxter Canning Hartland Plant.
Rear view of H. C. Baxter & Brothers Canning Company's Hartland Plant after 2nd expansion
H. C. Baxter & Brothers Canning Company's Hartland Plant after expansions
This box labeled "Baxter's Finest Fancy Maine Sugar Peas" was found at the former Furbush House on Outer Pleasant Street.
"Baxter's Finest Fancy Maine Sugar Peas" (Photo courtesy of John Hikel)
The fully expanded Baxter Canning Hartland Plant.
H. C. Baxter & Brothers Canning Company's Hartland Plant – 1945
"In the winter of 1942, H. C. Baxter Company was awarded a contract by the U. S. Army and the Hartland plant began producing dehydrated potatoes (a process which had never been done before) for the troops in WWII. It was the first company in the East to produce dehydrated potatoes for use in World War II. Using Olaf Pierson's newly invented continuous steam peeler along with a continuous belt dehydrator, the operation operated during the potato season of November to May, 24 hours a day, 7 days a week from 1942 until 1945 when the war ended. It was the lowest cost and most successful producer in the East and many more dehydration plants around the country were designed from it. Over 6 million pounds of diced dehydrated potatoes were produced at the Hartland plant and shipped to the Army & Navy by war's end; enough to fill 10 miles of railroad cars."
1940s Potato Peeling Line at Baxter Canning's Hartland Plant
Included in photo are Enzer Lewis, Lillian Towle, Annie Hewes, Vera Furbush & Donald Hollister
During World War II, German Prisoners of War were used for additional labor at Baxter's Hartland plant. They were housed at the Bradford Farm in Palmyra and transported daily by bus to the plant as noted by Doug Robinson in his report of the History of Irving Tanning Company.
Once the war ended and the POWs were returned home, more help was needed as noted in this July 24, 1946 Lewiston Evening Journal article; "Locals are getting acquainted with 150 imported Canadians who will help at the canning plant in Hartland and who are housed at the Bradford Farm building in Palmyra."
The conveyor belt system attached to the building seen below brought pea vine waste from the factory floor to be later dumped in a landfill as noted by Jim Dyer. By about 1950, the entire system was relocated inside another building at the plant.
The sign atop the building reads, "Plant No. 2 – H. C. Baxter & Bro – Packers of Canned Vegetables"
Local farmers were given an allotment of so many tons of pea vines per acre as noted by Wendell Bubar. He recalls at his father's farm in St. Albans, where they also planted corn and strings beans for Baxter Canning, their cows were fed the excess pea vines after milking because of the strong, pungent pea flavor which adversely affected the taste of the milk.
"Plant No. 2 – H. C. Baxter & Bro – Packers of Canned Vegetables"
One of many canned vegetable products produced at H. C. Baxter & Brothers Canning's Hartland Plant were Shelled Beans.
Baxter's Canned Shelled Beans (Donated by _____ _____)
Hartland resident Leroy Hiram Whitten (1907-1981) worked for Baxter Canning for many years and was honorably recognized with his co-worker, Charles A. Springer, by the company in 1945 for introducing a major improvement on the dehydrated potato line. According to the story from his family, Leroy was at home while his wife Mary was preparing supper when he noticed her shaking the flour in her sifter to level it out so she could add more. An idea came to him to add an offset pully to the line and, along with Springer, introduced the idea for the first shaker belt system enabling more flakes to be added to the can making the process more efficient and profitable. Their idea for a can flange straightener was also noted in the letter.
Letter of Recognition – Leroy H. Whitten – June 15, 1945 (Courtesy of Whitten Family)
Harvesting and Canning Season were busy times for both workers at the plant and those working at local farms to supply raw product.
H. C. Baxter & Brothers Canning Company Newspaper Article – August 11, 1949

"After the war, the company processed canned whole potatoes but also began to develop a process to produce quick-frozen french fried potatoes. Olof P. Pierson (1906-1993), a native of Caribou, Maine was a United Nations consultant and inventor of frozen french fries. He developed the frozen french fry at the H. C. Baxter laboratory in Hartland in 1945. Initial production was done on a small scale at the Hartland plant but in 1947, John L. Baxter, Jr, grandson of the company's founder, directed the building of a plant in Corinna solely to produce french fries for a fast-growing market."
"After the installation of new machinery and a building to hold the equipment, the first commercially frozen fries were produced for Bird's Eye Foods at the newly refitted Snowflake plant in Corinna beginning January 20, 1947. As a U.N. consultant, Pierson traveled to Poland, Brazil, Greece, Sweden and Canada to help with potato processing, machinery selection and plant design"
It shall be noted the claim of "inventing" frozen french fries remains an ongoing debate to this day with some crediting its invention to Ray L. Dunlap, a Chemist for the J. R. Simplot Company of Declo, Idaho, who later also very successfully commercialized french fries in frozen form. The people of Hartland, of course, faithfully stand by our claim to fame in the story of frozen french fries…whether it be fact or fiction!
Baxter's Finest "QUIFFPO" (Quick Frozen French Fried Potato)
A 1954 Map shows the private 666′ side rail for Baxter Canning on Maine Central Railroad's Harmony Branch Line.
MEC Side Rail Map – 1954 (Photo courtesy of Peter Violette)
In 1954, Baxter's received a contract to produce instant mashed potatoes for the Borden Company however by 1955 all the Borden brand product processes were carried out at the Snow Flake plant in Corinna.
Newspaper Photo – February 26, 1955

By 1958, the Baxter plant in Hartland was still active in canning and dehydrating operations branded as "Baxter's Finest" while the Snow Flake Canning Company specialized in the manufacturing of frozen products branded as "Snow Flake".
"Snow Flake Canning Company" & "Baxter's Finest" Brands
"By the early 1960s, the company felt vegetable canning and freezing processes in New England could no longer compete with other areas of the country and its vegetable processing operations ceased and it solely became a potato processor. John Baxter, Jr became President & General Manager and the home office in Brunswick was closed. The Hartland facility was closed in 1961 and all company operations were centralized in Corinna. In 1965 Snow Flake Canning merged with Lamb-Weston, a food processor based in Portland, Oregon. The Corinna plant burned to the ground in 1968 and ceased business. Lamb-Weston became part of Con-Agra Foods Specialty Potato Products and has no plants in Maine."
Following the closure of its facility in Hartland in 1961, the H. C. Baxter & Brothers Canning Company's plant buildings and property were purchased by Irving Tanning Company as an Annex for its Main Street operations. For several more decades, several functions of the tannery's operations were transferred here including final trimming and shipping of their finished leather product.
Former H. C. Baxter & Brothers Canning Company Hartland Plant operating as Irving Tanning Company Annex – c1962
The Annex was eventually closed and sat abandoned for several years before being sold to a private owner.
The abandoned former H. C. Baxter & Brothers Canning Hartland Plant

Calvin & Lori (Hewins) Warner eventually purchased the property & buildings with plans to rejuvenate and rename the entire lot as "Calsway" in honor of their deceased son, Calvin Chester Warren. Sadly, Mr. Warner passed away in April of 2020.
Following their purchase, the Warners had the remaining structures of the former Baxter Canning Plant & Tannery Annex taken down in a controlled burn performed and photographed by the Hartland Volunteer Fire Department on November 26, 2017.
November 26, 2017 (Courtesy of Hartland Volunteer Fire Department)
It was a humbling end to a long chapter in Hartland's history. One of the only remnants of its past is this beautiful and very large mural which hung in the Employee Break Room at H. C. Baxter & Brothers Canning Company and was recently donated to the Hartland Historical Society.
H. C. Baxter & Brothers Canning Company – Hartland Plant Break Room Mural