Seekins Street is the namesake of Walter Ernest Mebroy Seekins
*
The future Seekins Street would be built along the northern line of the large homestead formerly owned by the late Seth Webb (1815-1893) located off Commercial Street (then still known as North Street) as seen below on the 1896 Map next to the Methodist Church before most of it was sold in 1900 by Seth's widow Louisa (Mason) Webb to Walter E. M. Seekins. Thomas A. Linn's newly built home is also seen on the corner of Academy Street with its main side entrance which would soon be extended northerly in the latter part of 1896 as Blake Street.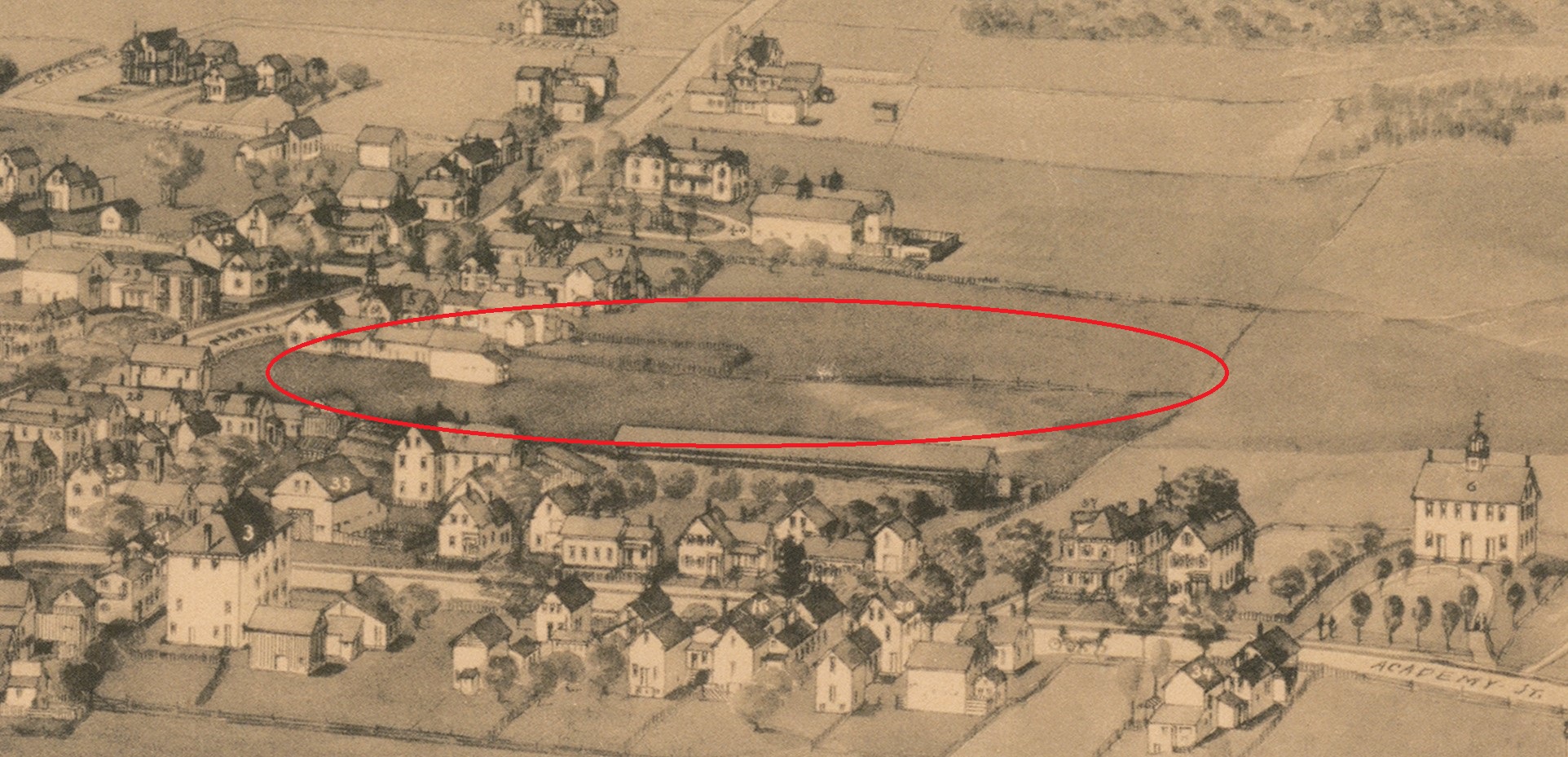 Future Seekins Street Location – 1896
See Maps Page for an enlargeable version of the 1896 Map
*
Walter Ernest Mebroy Seekins (1860-1910) was born in St Albans where he married Alice Waldron of Hartland in 1877. They settled on a farm in St Albans and, except for a very brief residence in Camden, New Jersey around 1880, lived in St Albans until moving to Hartland in 1892 where Walter built a new dry goods & groceries store on Commercial Street and moved their family into the 2nd floor of the new 3 floor building.

Walter E. M. Seekins Commercial Street Store Block – 3rd Building to the Left
*
In 1896, the entrance for Thomas A. Linn's newly built house on the corner of Academy Street was extended northerly from the original entrance to form a new street. Several lots on the new street were sold by Calvin Blake, Jr who had inherited the vast area of land from his father Dr. Calvin Blake. Later that same year, a new house was built by local lawyer Howard W. Stewart (future Dr. Brigg's home) as well as a new parsonage for the Methodist Church further up the street which was officially proclaimed by the town as Blake Street in 1897.
The expansion of Blake Street also marked the beginnings of the future Seekins Street as a few years Walter Seekins purchased his first lot in mid-1900 on the newly developing Blake Street which had been originally purchased by Dr. Charles A. Moulton about 1896.
Pittsfield Advertiser – 14 June 1900
*
While plans were announced in the 1900 article above to soon erect a new dwelling on the Moulton lot, it is unclear if a house was built as a year later in June of 1901 Walter purchased two more Blake Street lots next to the new Methodist Parsonage from Calvin Blake, Jr and soon began building the first of his houses on the newly purchased lots. Walter then built his eventual residence on the corner of Blake Street and Seekins Street which they moved into in August of 1903.
Pittsfield Advertiser – August 21, 1902
*
Following his purchase in May of 1902 of additional land on or around Blake Street from Calvin Blake, Jr ($325), Dr. Charles A. Moulton ($150) and the widow Louisa Webb ($150), Walter began a westerly extension of his Blake Street residence driveway, commonly referred to as West Court, where he built at least two more houses soon after. By late 1902, West Court (also referred to as West Street or Seekins Street depending on the newspaper reporter) had been extended along the entire northern border of the late Seth Webb Commercial Street homestead as a new throughway to Commercial Street connecting to the driveway entry of the Methodist Church.
In 1906, owing to a serious lingering illness, Walter E. M. Seekins sold his Commercial Street store block & business to Halver H. Whitney. Although his health was failing, Walter purchased a farm in Harmony in 1907 where he and his wife Alice with some of their children and their spouses spent much of their time for the next few years while still maintaining their Blake Street residence. Walter suffered an attack of acute bronchitis in November of 1909 which severely aggravated his other long standing illnesses and his condition weakened further. He was recorded in the 1910 Census taken in April at their Harmony farm, but returned home to Blake Street in late June where he passed away on July 26, 1910 at 60yrs old. Alice remained at their residence at the corner of Seekins Street & Academy Street until her death in 1933.
*
1903 Town Report – Article 27: "To see if the town will vote to accept the Public Way commencing on the east side of Commercial Street, south of the Methodist Church lot and extending easterly to the west line of Blake Street in Hartland Village, as laid out by the Selectmen, and determine the amount of land damages."
The first attempt in 1903 to make the newly formed throughway an official street did not pass. The street article was presented several more times before it was finally passed by voters by 1910 and formally adopted as Seekins Street.
*
In 1910, Hartland P of H Grange #452 built their first dedicated Grange Hall on Seekins Street. The original building burnt in 1923 and was later replaced. Following their disbandment in the early 1960s, the building was used by town civic groups before being razed in the early 1970s and replaced with a Public Tennis & Basketball Court.

Hartland Patrons of Husbandry No. 452 Grange Hall – c1910

*
Mary (Anderson) Butterfield & friends w/former Commercial Street Seth Webb Residence and Seekins Street Grange Hall – c1912
(Photo courtesy of Maggie Smith)

*
In 1920, Alice (Waldron) Seekins was still living at her Blake Street residence with her daughters Nancy (Seekins) Leadbetter and Ella (Seekins) Getchell and their families living with her. She remained at the house in 1930 with her daughter Edda Seekins and her husband Wendell Annis living with her until Alice's death in 1933. Edda & Wendell were still living at the home at the time of Edda's death in 1939. Wendell was living there in the 1940 Census before he moved to Pennsylvania in 1942 to live with their daughter Audrey (Annis) Libby until his death in 1943. The 1943 Map below notes the house as the "Annis Estate".
*
Seekins Street property ownership in 1943.
Hartland Village Map – 1943
*

Seekins Street – 2014